West winds make inshore fishing tough in Louisiana. This is how I overcome them to catch speckled trout and redfish.
My heart has always been on Louisiana's coast and, even when I was away in my previous life, I'd find myself thinking of the coastal prairie. This is one of those stories:
*whummmmmmmmm*

The heart of the 4-wheeler is screaming. A huge plume of dust rises behind me as the machine gains speed.

Sweat is dripping beneath my plate carrier and my slung rifle is digging into the small of my back. I lean my body over to the right side of the quad before guiding it into a sharp right-hand turn and feel the lateral inertia build.

The road straightens out and I continue my trek between two mountains atop an open desert floor. My destination, a large hill, lies before me.

I don't slow down much before attacking the hill and flying up the face of it, hugging the 4-wheeler closely so it doesn't flip backwards. Wheels bounce and lose traction but the machine makes the steep climb as it had a dozen times that week.

I reach the top of the hill just in time to see the C-130 coming in. The aircraft is making a supply drop of ammunition since there is no airstrip for it to land on.

Pallets fly out the back of the bird, parachutes deploy and the operation goes smoothly. I report this over the radio and then I do what I always do: I take my time coming off the hill.

Sprawled out before me is the vast wasteland of another third world country located somewhere in southwest Asia.

I'm not taking my time to view the scenery before me, but to briefly daydream about home and what the trout are up to. I can't help but notice children in the town below me are out flying their kites and that the wind is blowing out of the west.

A west wind, poison to this inshore angler.

I recall many a day when such a wind sabotaged my fishing trip. Sometimes it only had to blow from the west to shut the fish down and make the marsh seemingly devoid of life.

Looking down at my watch I saw it was time to head back and move on to my next task. I fired up the engine and carefully began my descent, being careful to not roll the ATV. Upon reaching the ground I squeezed the throttle and rocketed across the horizon.

*whummmmmmmmm*
What is a west wind?
Obviously a west wind is a wind blowing from the western direction.
What really characterizes a west wind is the effect it has on the marsh.
In Louisiana a west and/or north wind can blow water out of the marsh, whereas a south and/or east wind will blow water into the marsh.
A strong west wind can nearly drain the marsh. In some cases it can even overcome an incoming tide. For more on this,   recommend you read Mastering the Tide.
When West Winds Are Common
West winds occur seasonly in fall and winter. Whenever a cold front impacts Louisiana it turns south/east winds into north/west winds.
This type of west wind is the focus of this blog post.
West winds are also found during the summer, but they are usually much lighter and lack the punch of a strong cold front.
Bad Effects of a West Wind
Lets analyze a strong cold front from late October 2012.
These meteorological and tidal data are from the Shell Beach Buoy. You can see the wind turn around and water level drop like a rock.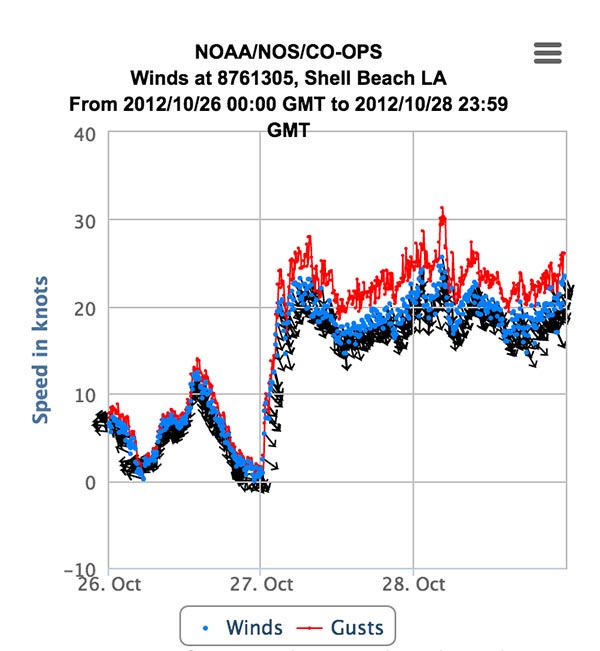 If you are not familiar with how to use these data you should read Tide Charts Don't Work Anymore.
Effects on Water
A west wind will drop water levels and increase wave height, causing waves to roll on exposed banks and water bottom. This stirs up mud and makes the water dirty, giving it that "chocolate milk" look.
Effects on Fish
Water clarity takes a dump and becomes difficult for fish to see. They can't bite your bait if they can't see it.
Suspended dirt irritates the gills of fish as well. It's like breathing in a smokey room.
Because they can't see or easily breathe, fish will seek shelter rather than actively feed. But there's more.
If a cold front is strong enough, the resulting temperature change will shock fish and cause them to become lethargic. Captain Boola Landry observed this after a cold front so strong it snowed in Belle Chasse.
Listen to that story in Inshore Interviews Episode 70.
Effects on Anglers
Low water will limit where you can and cannot go fishing. Shallow water accessible during normal water levels may not be during a west wind.
Low water at the boat ramp makes launching trickier and only dedicated anglers will put up with the biting cold.
Cold Fronts Aren't all the Same
It's key knowledge that not all cold fronts are created equally. I have caught limits of trout the day after a weak cold front.
A weak cold front just isn't strong enough to muddy the marsh.
How can we overcome a west wind?
Fish just want to be comfortable and have something to eat, so focus on finding these:
clean and moving water
deep water
bait
A fourth condition not talked about often is warm water. You want to find the warmest water. Fish hate being cold.
You will also want to change your tackle and strategy.
Find Clean Water
Finding clean water is not difficult, even with a west wind.
In a nutshell, you drive around the marsh until you see decent water and execute the Louisiana Hustle at each stop, checking to see if fish are there.
But this isn't exactly fishing smarter, it's more like burning a lot of gas.
You should look at satellite imagery on a day the water was low and muddy. A great resource for this is Google Earth, and if you look at the Biloxi Marsh on October 29th, 2012 you will see the aftermath of the strong cold front, the same one in the graphs above.
That data was recorded a couple days after it impacted the Biloxi Marsh. I distinctly remember a strong northwest wind draining the marsh of water.
This imagery reveals where clean water is found: Dirty water is lighter in color. Clean water is darker.
The water in Drum Lake appears dirty, but the water in Bayou Ramon looks much better. Chances are the water in Bayou Ramon is deeper and therefore less prone to dirty from wave action.
This isn't guaranteed every time cold fronts hit, but it is a place to start. Using this knowledge, I'd identify a dozen or so post-cold front spots to begin scouting.
Discover more about using Google Earth.
Find Deep Water
Speckled trout move to nearby deep water when conditions get tough. You can find deep water in sharp bends of a bayou or man-made canals.
Using your depth finder is key! Just understand that "deep" is not a certain depth, but a relative change in one depth to another. It can be 10 feet or 25 feet.
Think of the marsh as a series of levels. As the water gets higher, fish  move up a level. As it gets lower, they go down.
When the water gets really low, all the fish will drain out to the lowest level. The lowest level would be the deepest water, like main bayous and canals.
A strong, cold northwest wind can be really good for fishing when you realize there are more fish packed into less water.
A pond frequented by redfish is still good to try when water gets low.
The difference is that they won't be on the shoreline, they will be in the middle of the pond, where it is deepest, if only a few feet.
Find Warming Water
Specifically, clear and shallow water, usually over oyster beds in three to five feet. Cold fronts sweep the sky clean, leaving a straight shot of sunlight warming the water. Fish will move onto these flats to warm up and feed.
The best locations always have adjacent deep water. No nearby deep water usually equals no fish.
Change Your Tackle
You should change the sinking weight of your tackle, whether it's an egg sinker or jighead, to accommodate deep water these fish are holding.
Strike the perfect balance between reaching the bottom and a slow fall. These fish may be lethargic from a fast drop in water temperature. They won't waste energy chasing a fast moving lure.
Using a 1/2 oz jighead will definitely get you to the bottom in 10 feet of water, but may drop too fast to be appealing. It may even bury itself in the mud like a lawn dart. No trout is shoveling mud for food.
An 1/8 oz jighead may be too light, failing to reach the bottom where it can be seen.
Once you do figure out a good weight, the key is to work the bait slowly. Let it bump along the bottom with the current. Avoid a fast retrieve.
It will be up to you to experiment with boat positioning, anchoring vs drifting and weight selection to find that perfect balance.
It is simply too much to be explained in one article.
My school is better equipped to handle this higher level of learning. Click here to browse classes.
You may want to use something that smells, like a scent spray, dead shrimp or Gulp Shrimp, or is loud, like a spinnerbait or Versamaxx Cork.
These are the little details that make a big difference.
Change Your Fishing Trip
You may have to change your target species. Forego trout to target redfish, black drum and sheepshead.
When guides post reports of catching these species, this generally means the trout aren't biting and Plan Redfish is the way to go until things settle down.
Also, try launching later in the day. There is no reason to be fishing as the sun is coming up when it's super cold outside. Give the fish time to warm up and become active.
Get the Latest Intel
Our Facebook group, LAFB Inshore, is home to the latest inshore fishing reports for Louisiana, so be sure to check it out and know where to go and what to do when a strong cold front hits.